FinkFankFunk.com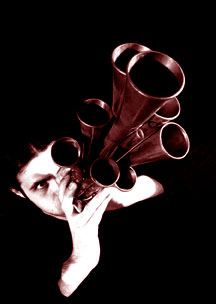 Jesse "Sock" Reid Andrews, Bass 9/15/82-

Four short years ago, young Sock first held a bass in his eager arms, caressed its neck and body, and listened lovingly to its electric hum. After subsequently learning to play the damn thing with the help of a neato effects pedal, Sock filled his pockets with quarters and left Pittsburgh for the big city to make his fortune. Now Sock, a brawny freshman, wears his baseball cap just right (a little to the left, please) and his T-shirts just tight (to emphasize his heft, please) and grins with reckless abandon as he lays down the law on FinkFankFunk's weighty bottom end.
Ari "Kipper" Appel, Guitar 1/30/81-

The finest FinkFankFunk guitarist that Belmont, MA has ever produced, his chiseled features and salty speech recall for many the near-mythical pirate king of days of yore. His six-string skills, however, augmented in embarrassingly unfunky fashion by his four-string foibles on the violin, make it clear that Kipper lacks entirely the pirate king's characteristic hand-hook mechanism. Not to worry: Kipper's personal maxim "What Would Herbie Do?" leads him ever closer to the realm of ultimate funk.
Keith "Staff" Berkoben, Audio Engineer 1/18/82-

Where once was disconcerting sonic chaos, now is honed funk majesty. Where once were poorly mixed honkings and unlistenable gurglings, now gleams the gritty groove of FinkFankFunk. Staff is the man behind the metamorphosis. Whether he's running like a soundman or running roughshod over other soundpersons in his drive to perfect the mindless, unrelenting funk, Staff's presence in that little booth behind you is vital. This sophomore grew up tall and he grew up right here in Arlington, mixing sound on a Yamaha MD8 for them Massachusetts boys on them Massachusetts nights for Indigenous Grooves, a high school jam band. Now blessed with more noise toys than most audio engineers could shake a Shure SM58 at, Staff mixes on. For more dirt on his diehard Phandom and surreptitious construction fetish, check out his site. And if you like the noises we make, take the time to thank the man who makes it happen.
Spencer "The Great Burro" Burrows, Lead Vocals 5/10/78-

The latest stranger to elevate FinkFankFunk to absurdly funky new heights, this shouter out of Sebastopol, CA, will change the way you devour FinkFankFunk. The Age of The Great Burro dawned in late April 2002; interested parties agree that nothing will ever be the same, while uninterested parties probably would say the same if they only knew. This Berkelee student cut his teeth on such nursing-home chestnuts as Keep on Rockin in the Free World. Graduating to front Eric Lindell and the Reds, The Great Burro grew. Notwithstanding these ominous beginnings, let a vow go forth upon this day: O FinkFankFaithful, no longer shall simple Roll'n'Rock flow from FinkFankFunk's most-vocal of members; no, this greatest of burros, in no way a burrito, is a pale but tasty slow-brewed mix of soulful croon, dirty growl, and tough funk, with an aftertaste of thick fink and fat fank. To the Funk! Note: The Great Burro is best enjoyed in moderation, as full submission to His Musical Majesty may inhibit the operation of heavy machinery and leave one gasping for air.
Malaika "G.K." Butoyi, Vocals 4/10/82-

FinkFankFunk's newest addition to its roster of venomous vocalists, G.K sports a groove more stately, more dignified, more je ne sais quoi than Razi's rant. In fact, G.K.'s je ne sais quotient is through the Mothership's titanium hyper-alloyed astro-modified roof, and has been since her exodus from Orange County and subsequent conversion to Baduizm. With her Good Knitting, Grooves that Kill, and Gluteus Kineticus, G.K. and her personal brand of mouth-watering groove are teaching the band and its minions to funk and funk well.
Jake "Hawk" Fleming, Tenor Saxophone 6/5/79-

Hawk, a freakish-looking senior from Santa Rosa, CA, has filled the band's tenor chair to overflowing since his early days as a co-founder and distressingly square clarinet player. Known near-internationally for his cheerily ghastly fashion sense and chewy center, Hawk is the de facto clothing consultant for the band, as well as an inspirational fount of funk. Hawk's stated goal for the band, as well as in life, is to help all the underprivileged children of the world shake their bums and boogie down but good. Hawk is also known for his overly verbose and nearly-illegible writing style. Funk you very much.
Alex "Xander" Gordon, Keys 11/16/81-

Replace the Doctor (Long Lost Ligggity Large) with an X-man? Some might say 'diagnosis: disaster!' But FinkFankFunk found that so long as the X-man is new keyboards funkster Xander, a Sophomore, the keys (organ, electric piano, kinura, amazing fun strip, and tambourine too) will tinkle as funkily and funkle as tinkly as ever before. From the tender age of 6, Xander's Norwell, MA childhood was spent drowning out Dave Matthews' cutting-edge cocktail of sonic pablum and noisome crap with devoted piano practice. Funk made its grand entrance to his life seven years later, with Mssrs. Hancock and Medeski leading the charge. After a harrowing escape from Norwellian hell, Xander reached funkgasm upon his Maytime merger with the band.
Brett "Pappy Dan" "gemini" Rautenberg, Drums 6/9/76-

FinkFankFunk's guru of authentic funk history and purveyor of absurd rhythmic perfection. Pappy Dan lives in Allston when not staring at a wall in a basement in Cambridge while the band lays down tune over his rocksteady groove. Pappy Dan is the creator of www.darkfunk.com, a bonanza of rare and raw recordings of his personal funk god, Mr. Miles Davis. After hearing the Red Hot Chili Peppers' version of Stevie Wonder's "Higher Ground" at the tender age of 13, gemini was hooked. It was only a matter of time before the pull of FinkFankFunk drew him in. All parties concerned are very happy about the marriage, and plan to honeymoon in the belly of the Mothership.
Danny "Pip" Rhodes, Trumpet 8/31/79-

Pip Rhodes is a mellow Missoura boy, but his trumpet explosions are anything but. A "mature" senior applied mathematics major, Pip aims in all other ways to emulate the great Maynard Ferguson. Mr. Rhodes would like it known that he once played with a bunch of old guys in a swing band called "The Classics" at senior citizens' homes. Since that distant time when he thought Parliament was like Congress, only more British, Squeaky Pip has turned the funk on in serious fashion. Still, his slightly goofy demeanor provides a balance to the dirtier, less reputable elements of the band.
Eric "Flip-Top" Rosenbaum, Trombone 7/12/79-

A proud product of local trombone factory Lexington High School, Flip-Top has supplied FinkFankFunk with controlled funk insanity on the slide trombone from the very beginning. While a previous project, The Realers Rhythm and Blues Revue Featuring the Back Alley Horns, left him (playing under the alias "Hotlips") battling a crippling Stevie Wonder addiction, an insatiable appetite for polyester and the dreaded "automatic swivel-hips" disease, Flip-Top has used the revitalizing grooves of FinkFankFunk to nurse him back to comparative health. Look for his classy duds, provided by Don Juan of Miami, and his remarkable gel job.
Alexander "El Diablo" Scammon, Baritone Sax 4/27/79-

Of British extraction via Nevada City, CA but with clear visual ties to the outer reaches of the funk universe, Alex is the brain and urogenital tract behind the band. Co-founder and primary arranger, he is known throughout the band for having the longest hair, curliest goatee, and biggest saxophone, and for shouldering band-related responsibilities when other members become too lazy to move. Also versed in the clarinet, tuba, flute, devil sticks, and chicken dinner, Alex, a senior, first heard the funk in Cairo at 3 A.M. during an intense game of Rummy 500. It was P-Funk. The culmination of the ensuing love affair was the enormous misshapen child known as FinkFankFunk.
Alec "Sherm" Spiegelman, Alto Sax and Flute 5/20/81-

Hornman extraordinaire, Sherm's multi-instrumentalist chops continually spur FinkFankFunk's Singin' Dancin' Horn Section to new depths of funk. Though his oft-disoriented air and pasty exterior do little to differentiate him from other sophomore physics majors, Sherm is learning to wear his bellbottoms better, and to shed the "Serious Musician" baggage he picked up gigging with Harrisburg, PA-based Brown Derby Junction Swing Band and jam band Marks Like A Dog. Sherm may best be schematized as an Everlasting Gobdropper - no matter how long you enjoy his tasty licks, he never gets smaller, though he does change color some.
To get ahold of us for any reason, day or night, contact Alex Scammon at:
alex@finkfankfunk.com or
617-945-0276
Blast from the past: if you dabble in archeology, you might wanna check out our old sites:
Old FinkFankFunk.com
Reaally Old FinkFankFunk.com